Sruthi & Sriram – Fernhill Gardens – HSR Layout
Client Challenge
When Sruthi  & Sriram bought a 2BHK on resale at Fernhill Gardens, Bengaluru, they wanted a hassle-free bathroom renovation, that would continue be managed professionally as both of them were at work everyday.
Transformation
The Happy Klo team worked closely with Sruthi and Sriram to renovate 2 bathrooms within a time frame of 16 days, providing a seamless, pain-free solution.
1.Original flooring had to be protected as clients wanted to retain it.
2.No work was to happen between 2pm and 4 pm
3.Simple monotone bathrooms.Ease of maintenance was highest priority.
4. Both Shruthi and Sriram were at work everyday.So they were particular about everyday updates and assurance of a qualified technical team.
>Existing flooring was covered with graded protective sheets until handover.
>All procurement & shifting works were scheduled during the two-hour break.
>Neutral base tiles with dark wooden colored vitrified floors was recommended
> An hourly workflow was charted for each day. The trained team updated them regularly and ensured that operations, execution and decision making was seamless.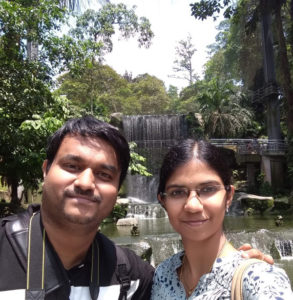 "We had our bathrooms renovated through HappyKlo and are very happy with the new bathrooms we have now.The whole process was tension free and work was completed on time. I particularly liked the professional approach and regular updates on the ongoing work . Highly recommend HappyKlo team!"
Shruthi  &  Sriram
GALLERY